Industrial cords
Automotive hoses and rubber belt reinforcement cords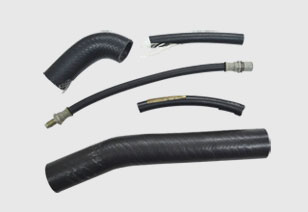 V-belt core cords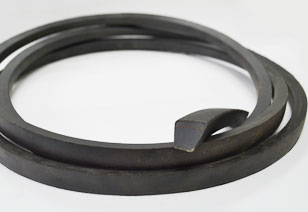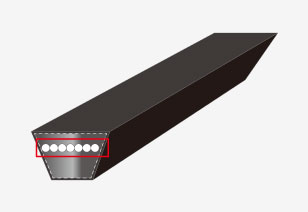 Industrial cords are used for automotive materials and as reinforcement for belt material. They are made primarily of polyester, nylon and aramid.
We are engaged in development, production and sale of reinforcing material with superior adhesive properties for rubber and resin. Products manufactured by Toray Hybrid Cord are used as reinforcement in many of the brake hoses, belts, etc., found under the hoods of the cars you drive.
Industrial cord

manufacturing process
Fiber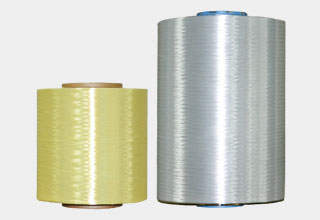 Fibers made of polyester, nylon, aramid, etc., are used depending on what physical properties match the characteristics required. Also, two or more kinds of fibers can be combined to create special properties that meet the required characteristics.
Yarn twisting process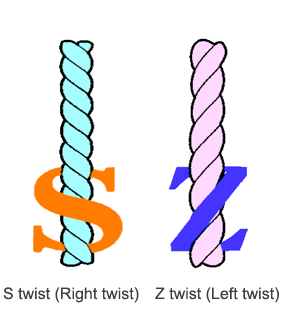 Industrial cords also use the same yarn twisting process as tire cords. These are described in the JIS standard as S-twist (right twisted) and Z-twist (left twisted). Moreover, the gloss and friction coefficient of the yarn differs depending on the direction of twist.
Twisting the yarn prevents it from weakening under repeated loads. One fiber or a combination of multiple fibers is twisted with a first twist (single-direction twist), then multiple strands of first twisted yarn are combined in a second twist (organzine twist). Adding twist pulls the fibers together and endows them with the required strength and elongation characteristics.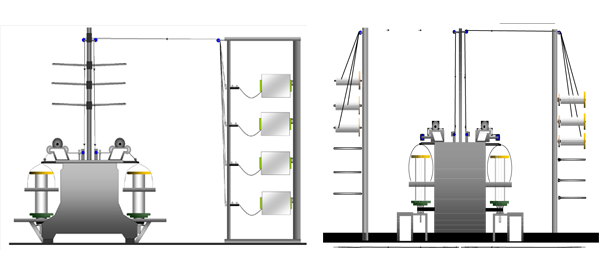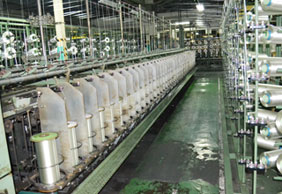 Ring twisting machine (first twist)
Multiple strands of yarn can be combined to produce twisted yarn.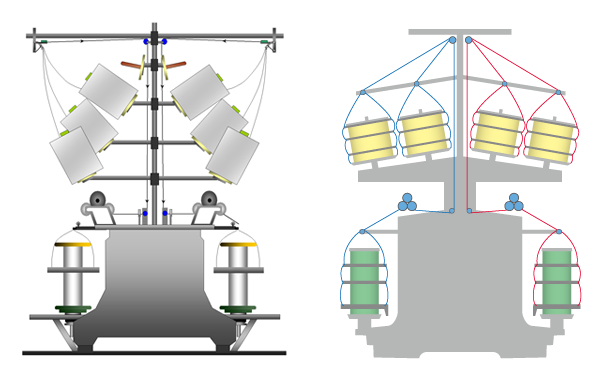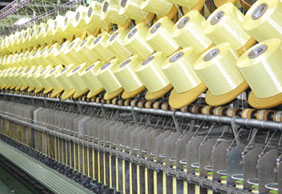 Ring twisting machine
Twisted yarn goes through two processes: First twist and second twist. Both first twist and second twist processes can twist multiple strands of yarn, allowing the desired cord structure to be produced.
Dip heat setting process
This process increases added value by applying adhesive to bind the threads of the twisted cord to the rubber, and produce cord properties that match the customer's desired characteristics. Our unique special dipping technology can realize a high level of adhesion, even for materials like aramid and polyester.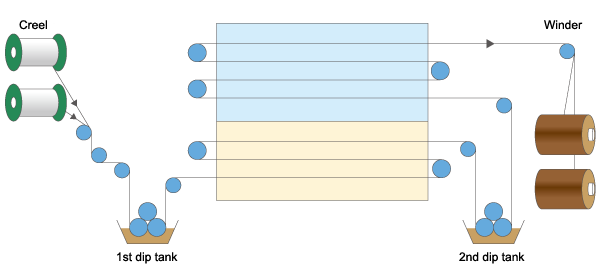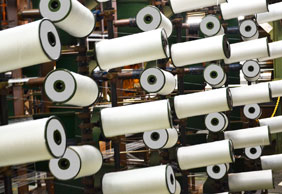 Dip heat setting process creel section
Processes raw material wrapped around twisted yarn bobbins and paper tubes.