Environmental Initiatives (ISO 14001)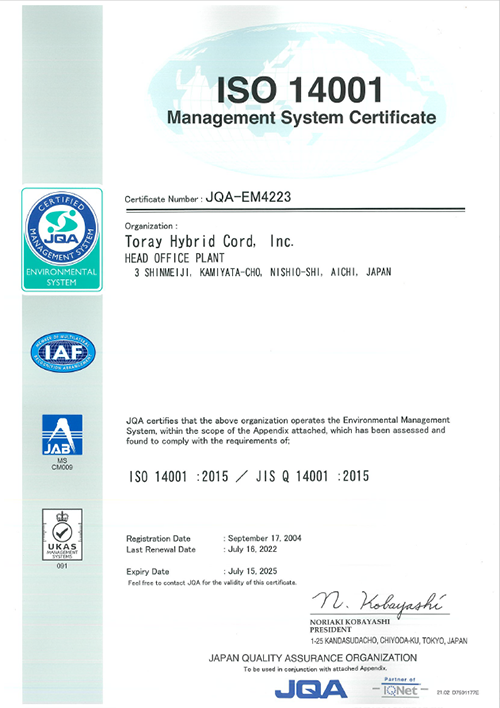 Environmental Philosophy
Toray Hybrid Cord, Inc. sees safety, disaster prevention and environmental conservation as its highest priority management issues, and together with protecting the safety and health of our employees and society, contributes to society by taking environmental conservation and biodiversity into consideration when developing products and technologies.
Environmental Policy
At Toray Hybrid Cord, Inc. we are always cognizant of coexistence with the environment, and follow the Toray Group action guidelines in relation to setting safety, disaster prevention and environmental conservation as our highest priority management issues, and in striving to protect the environment, safety and health of employees and society. Accordingly, we have formulated the following environmental policies to promote environmental management activities by everyone working in our company.
Follow the Toray Group principles for environmental management, comply with regulations and agreements related to the environment, and make consideration for biodiversity and environmental conservation your highest priorities in your approach to manufacturing, handling, use, sales, transportation and waste disposal.
Promote energy conservation with the aim of preventing global warming, and strive to reduce energy consumption per unit and curtail greenhouse gas emissions.
Promote reduction of waste and emissions to the environment, as well as recycling, and strive to provide products, activities and services that have a low impact on the environment.
Work to prevent environmental pollution while putting effort into promoting technological innovation that facilitates the reduction of environmental burden.
Set environmental objectives and targets, and work to achieve them while continually making improvements.
Document, implement and maintain this policy, and make sure it is known to everyone working in the company.
Make this policy open to the public.
Revised: April 1, 2014
Toray Hybrid Cord, Inc.
President
Quality initiatives (ISO 9001)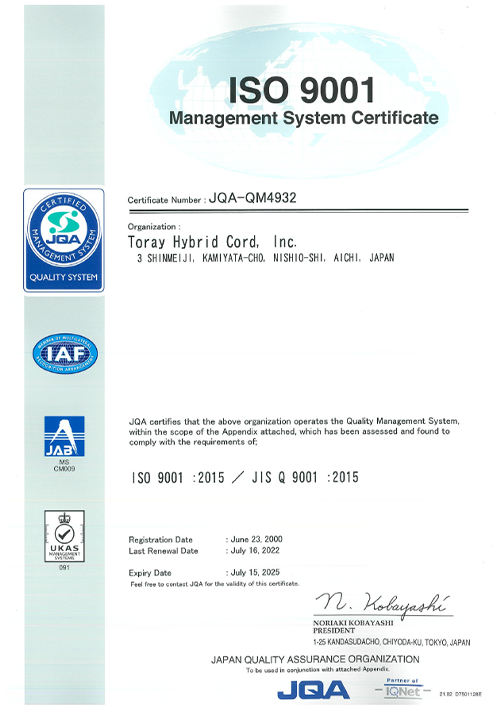 In June 2000 we received ISO 9001 certification registration from the Japan Quality Assurance Organization. We have adopted a company-wide quality management policy and strive to improve stability of quality in order to provide products that earn the trust of our customers.
Quality Management Policy
We consider the continued development of products and services that delight customers to be "putting the customer first," and recognize quality as an important factor in realizing this goal.
We are improving our quality management system to meet the demands of the times and customer standards, in order to deliver good quality that fully satisfies our customers.
For this reason, the following points deserve particular attention.
Accurately ascertain customer needs, and provide proposals and suggestions that secure trust and satisfaction.
Strive to improve a quality assurance system that includes product safety and quality prediction capabilities.
Endeavor to strengthen production facilities and technology capabilities to produce superior quality products.
Maintain the ISO 9001 certification level and implement steady improvements.
April 1, 2014
Toray Hybrid Cord, Inc.
President